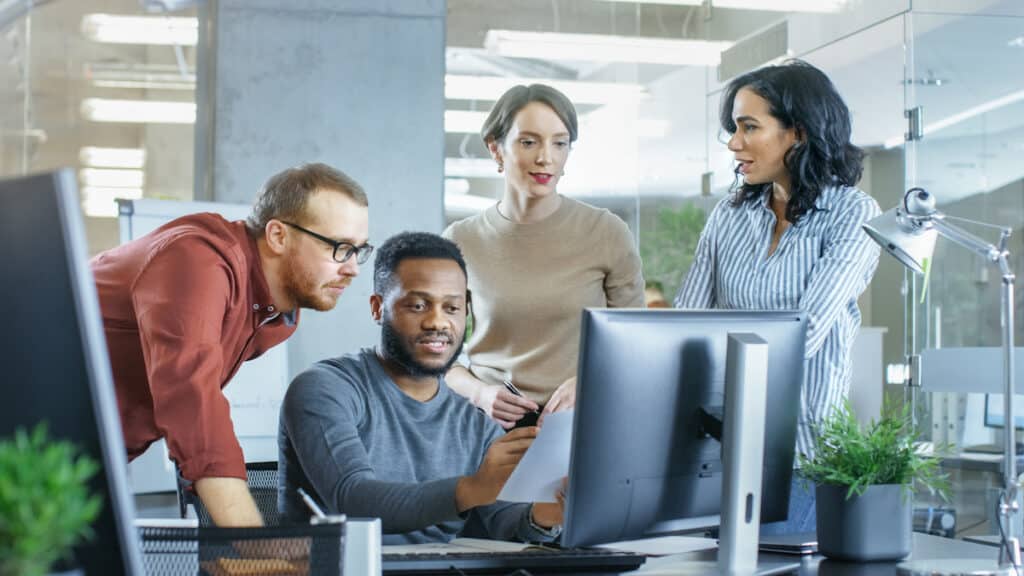 Many businesses assume that they need entire IT departments or teams to manage their technology issues. But some businesses don't have the resources to bring their IT fully in house, or an internal team doesn't make sense for their organization and business model.
Fortunately, you don't have to take that route. You can get better results and save money by working with a Managed Service Provider (MSP).
If you're unsure whether you should use an MSP for your IT services, consider the following six ways that an MSP could help your business.
1. An MSP Can Lower Your IT Costs
Hiring an IT team can cost your business a lot of money. Depending on their areas of expertise, the salary of an IT professional can range anywhere from $55,000 to $123,000 per year, plus benefits and other overhead expenses.
Conversely, the monthly cost of an MSP is lower than the cost of employing your average IT employee in house—and you get access to an entire team with significant resources.
Even if you already have a small IT team that covers daily issues, you may need additional help when upgrading systems or identifying technical issues that slow your business's productivity.
Save money by using an MSP that can step in and offer assistance when needed.
2. IT Support 24 Hours a Day, 7 Days a Week
You never know when your network will encounter a catastrophic issue, and every minute of downtime can cost you. A reliable Managed Service Provider has someone on call 24 hours a day, 7 days a week to prevent problems and to offer immediate assistance if issues do occur.
Innovative Network Solutions' professional Help Desk team helps you identify and solve issues to get your network back on track right away.
3. Continuous Network Monitoring to Detect Issues Quickly
Networks can experience a wide range of problems that prevent employees from doing their jobs. The best MSPs continuously monitor your networks to anticipate minor issues before they become big problems. With proactive monitoring & alerting systems in place, you can have peace of mind knowing that any potential hazards will be detected right away.
4. Security and Regulatory Compliance for Your Industry
Every business needs to take cybersecurity seriously. Research shows that on average, a single data breach can cost the victimized business $3.86 million. Even ignoring the largest, outlier attacks, studies show an average of a two hundred thousand dollar loss, and for small businesses, a minimum of three to nine thousand dollars lost.
A data security breach can also impact your reputation, encouraging potential clients to take their business to competitors.
An MSP can recommend and implement security measures that prevent attacks from malware and other techniques. A managed service provider can also monitor your network for signs of irregular activity. With an MSP as your constant partner, any odd behavior gets investigated to determine whether it poses a threat.
5. Increased Productivity and Efficiency
Even seemingly small problems can disrupt your organization's productivity and efficiency. Temporarily losing access to the internet, for example, could make it impossible for employees to contact customers or process orders.
An MSP can optimize your network to improve efficiency by eliminating roadblocks that lead to downtime and ensuring your IT setup is best suited for your specific needs. Small changes often lead to significant advantages, and our Stamford IT services are designed to help you see long-term benefits.
6. Advice From Industry Experts
Does your company have the right hardware, software, and platforms to work as effectively as possible? Innovation Network Solutions employs industry experts who can help you identify the perfect tools for all of your organization's activities.
The best MSPs help you stay ahead of the competition by investing in affordable tools that let you take advantage of emerging technologies. We use our years of experience in business IT to help you plan for both your immediate and long-term IT strategy.
Contact Innovative Network Solutions for Managed Service Provider Solutions
You only get excellent MSP solutions when you outsource your IT needs to an experienced, dedicated company. Innovative Network Solutions provides managed IT and cybersecurity services to a broad range of industries, including organizations in healthcare, education, finance, government, and law.
We've spent years honing our knowledge and perfecting our processes to provide our clients with the very best IT solutions in the Tri-State Area.
Get in touch with Innovative Network Solutions to learn more about how our MSP services can help your business succeed through your IT.